Date, Nut & Spice Cookies
A delicious cookie, though sweet they contain no concentrated or artificial sweetener.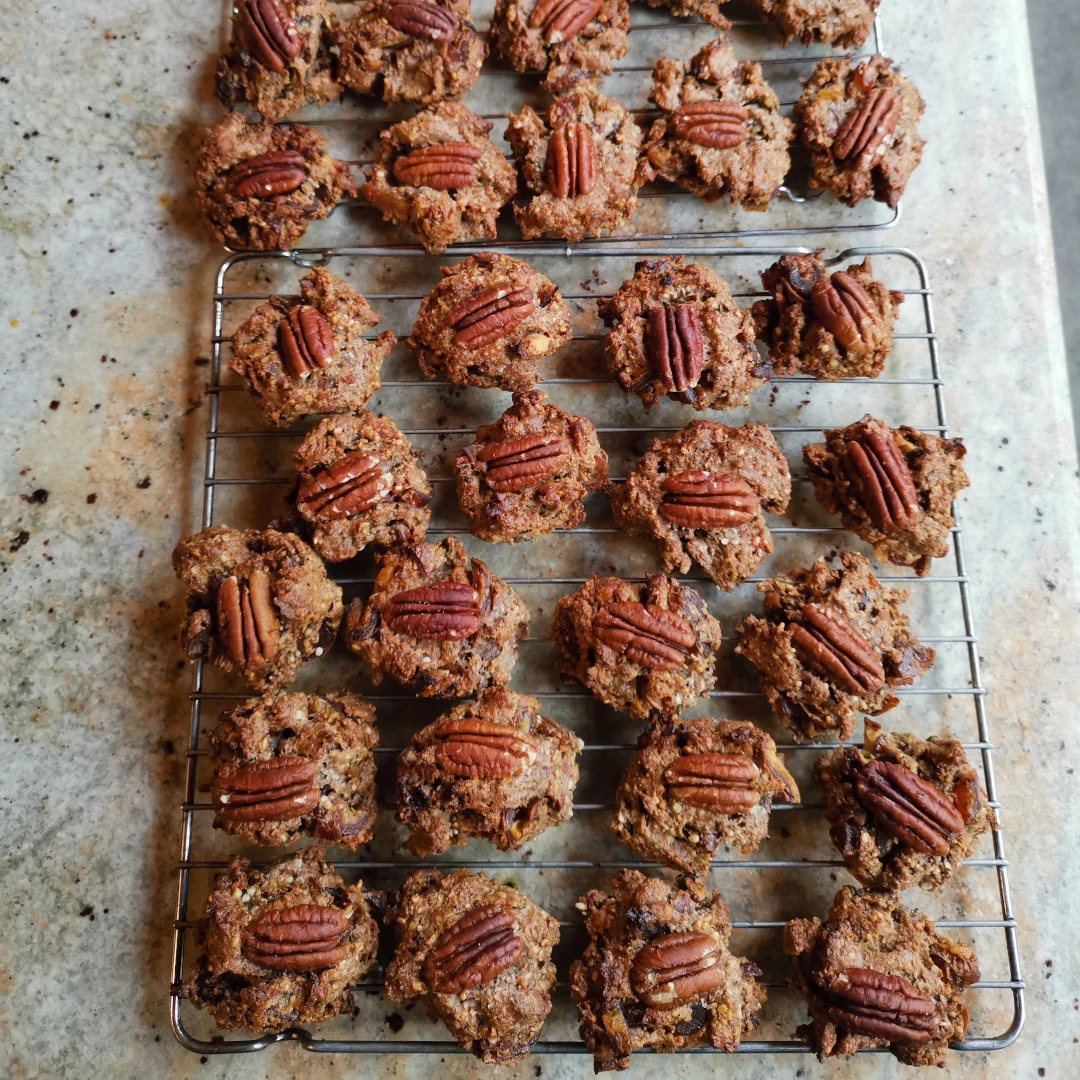 | | |
| --- | --- |
| Prep. | 30 minutes |
| Cook | 15 to 20 minutes |
| Ready In | 2 hours |
| Yield | 65 cookies |
Ingredients
4 cups dates
1 cup ground almonds
2 cups ground walnuts
1 cup almond flour
1/2 cup ground hemp hearts
1/2 cup ground flax seeds
1/2 cup psyllium husk powder
2 tbsp. baking powder (gluten free)
1 tsp. salt
2 tbsp. + 1 tsp. ground cinnamon
1 tsp. ground nutmeg
1/2 tsp. ground allspice
1/4 tsp. ground cloves
8 eggs
1/2 cup olive oil
1 tbsp. vanilla
1 cup warm water
Pecan halve per cookie
Directions
Preheat oven to 177°C (350°F).
Cover cookie sheets with parchment paper.
Chop dates and set aside for later.
In a separate bowl beat eggs and set aside for later.
In a large bowl or mixing machine blend together ground almonds, ground walnuts, almond flour, ground hemp hearts, ground flax, psyllium powder, baking powder, salt, cinnamon, nutmeg, allspice and cloves.
Add beaten eggs, olive oil and vanilla; mix well.
Add warm water; beat well.
Add chopped dates and mix thoroughly.
Spoon dough onto cookie sheets and flatten a bit.
Press a pecan half into the centre of each cookie.
Bake for 15 or 20 minutes, until golden.
Transfer to baking racks to cool.
Notes
If using a convection oven preheat to 163°C (325°F)
Can sit on the counter wrapped in parchment paper or Beeswax wrap for a few days
Freeze very well, wrap in parchment then plastic or silicone bag