Join The 45th Anniversary Celebration
October 31, 2023
Dear Steep Hill Food Co-op Members,
Wow! 2023 is Steep Hill's 45th Anniversary as a Co-op! You are invited to a celebration to mark this milestone on Tuesday, November 14th at Amigos Cantina, 806 Dufferin Ave, Saskatoon. Doors open at 5 pm, and we'll celebrate until 9 pm.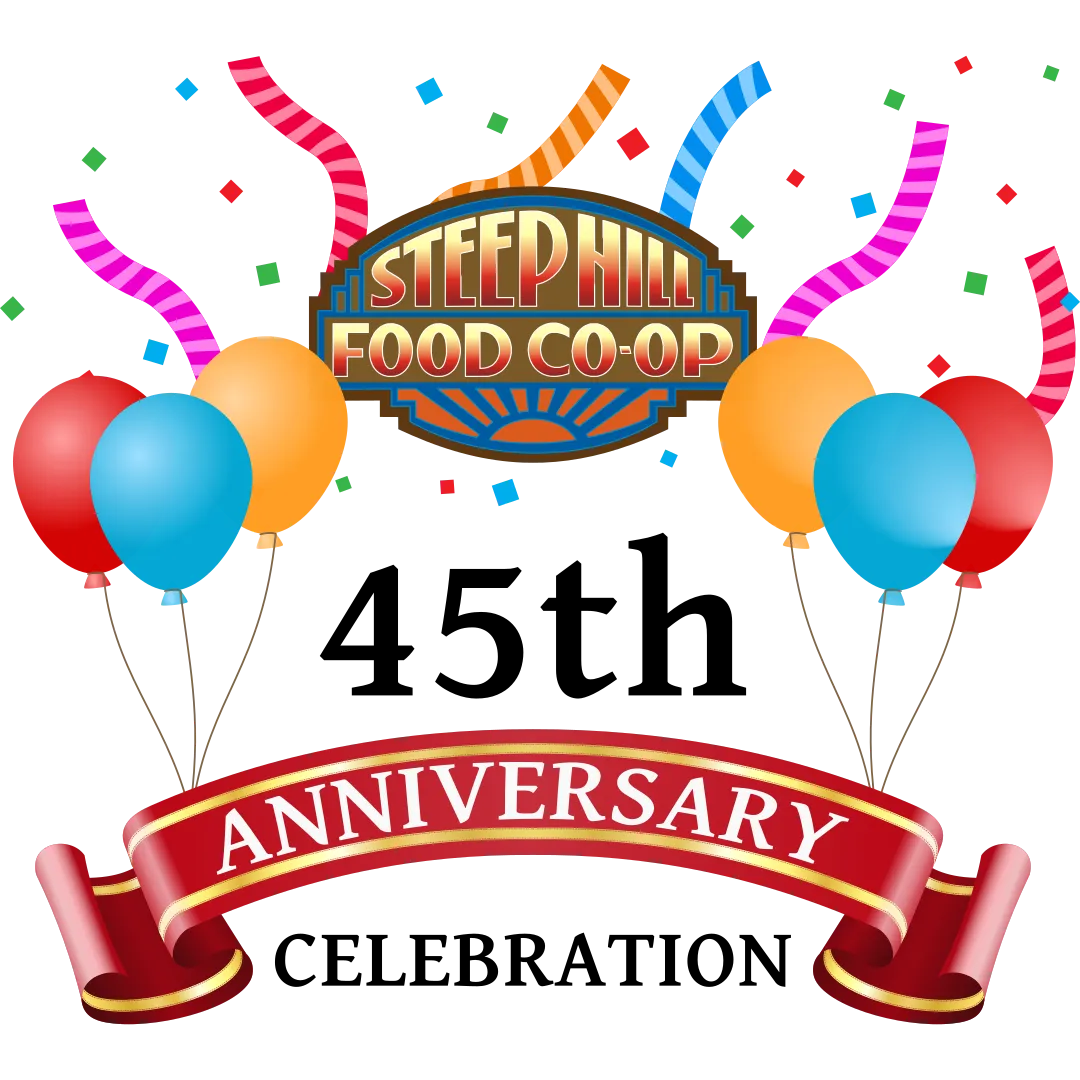 Come and share some finger food, beverages from the cash bar and music with your fellow Steep Hill members.
Walk down memory lane - or up the original "steep hill" as you peruse our memorabilia collection.
Win some money from the 50/50 draw to fund-raise for new storage freezers for all the new products we are bringing in.
Hang out with old friends and meet new members as you mingle and munch.
This is a special time to celebrate our past and present board members, recognize our long term accomplishments and recent successes, appreciate our vendors – and most importantly, connect with each other as the members whose dedication has made it all possible!
Like any community event, many hands make light work. Can you help make our event a success? Please let us know if you plan to attend, and if so, if you could help with any of the following:
Bringing savoury finger food
Bringing sweet finger food
Attending
Unable to attend
Might attend
If your schedule doesn't allow for bringing something to nibble, please don't let it stop you from dropping in. We want everyone there to celebrate.
We would like to improve our data as well. Please indicate how many years you have been a member and your start date. Start date: Number of Membership years:
Please RSVP by Friday Nov. 10th by emailing me at vicepresident@steephillfood.ca.
Steep Hill is still here because of you! Member support over the years – and especially most recently during our near closure and the subsequent transition – has been what keeps Steep Hill going. Your patronage, hard work, and the vision of good food and community that we share are essential to our cooperative. It is such a thrill to have this chance to celebrate together!
Hope to see you on November 14.
Yours in cooperation and celebration,
Gillian Edlund and the 45th Anniversary Celebration Organizing Committee,
On behalf of the Steep Hill Board of Directors