Steep Hill Celebrates Co-op Week
October 14, 2023
Co-op Week, starting this Sunday and leading up to – in just a few weeks – our 45th Anniversary on the 9th of November! Co-op Week Oct 15-21, 2023, celebrated across Canada with activities for all ages, is a time to reflect and appreciate the role of co-operatives and their impact on our communities.
A Co-op is Different
A co-op is a business, owned by its members, for the benefit of its membership, for the community that it is in and for the society that it is a part of. Employees are fairly treated and are integral to the products that the co-op produces and sells. Revenue surpluses (profits in corporations) are retained by the co-op and used to improve the value of the business for its members.
Members Matter
A co-op's members choose to join as members. The members belong for a variety of different reasons: to support the sale of good food for their families and to their community; to be part of a group making a difference; and to provide their support towards the longer-term, wider-view goals. Members get the opportunity to shape their co-op in many ways: by volunteering, voting, participating in committees and on the board (see below for more details), and helping provide the necessary feedback to keep the co-op evolving and improving.
Steep Hill Food Co-operative Makes a Difference
On 9 November 1978, almost 45 years ago, Steep Hill was established by a group of six that wanted to do things differently.
The six founders had a set of goals that continue to guide our Co‑op:
To establish a retail co-operative enterprise.
To work toward providing high quality food and information about nutrition.
To encourage the development of an ecological lifestyle using appropriate technology and the local production of food.
To work to develop and sustain a co-operative spirit in the community.
Co-operatives are responsive to the needs of their members and the community they are centred in.
We live in a province in a country that has a long history of co-operative enterprises—credit unions, agricultural co-operatives and pools, mutual insurance companies, worker-owned co-operatives (one is La Siembra Co-operative that we currently purchase chocolate from) and housing co-operatives, among others.
Co-operatives evolve with time and events, constantly improving the value proposition to their members while striving to achieve the aims and goals for which they were formed.
Co-operating on Climate Action - This Year's Theme
Steep Hill Food Co-operative was established with climate action as one of its key goals—an ecological focus even before it was popular.
Organic Food Co-operatives, with their focus on ecologically responsible inputs for their products, whole food plant-based diets, and local production have the opportunity to help the environment in many ways.
Reduce greenhouse gas emissions.

Organic farming has a lower carbon footprint (20% fewer greenhouse gas emissions, 45% less energy) because it makes no use of fossil fuel-derived fertilizers and most synthetic pesticides.

Improve soil carbon sequestration.

Protecting the soil biome is key to good organic farming practices which sequester more carbon in the soil. These practices make organic farming better able to adapt to a changing climate.

Limit food waste.

Source locally grown whole foods, minimally processed or unprocessed, resulting in reduced food waste, reduced food handling and minimized packaging waste.

Buying local reduces transportation related greenhouse gas emissions.
Steep Hill Food Co-operative - Future Climate Action
Install solar panels, feeding 240V into the Saskatoon grid, where our peak power production coincides with our highest consumption to keep the store cool in the summer and warm in the winter, and the produce and products optimally cold year-round.
Reduce food waste: develop local sources for grains, seeds, pulses, produce. Donate unsold food to local charities and in the last resort make sure that food waste is composted.
Produce local products: use our local products to make simply prepared foods available to customers which reduces our waste, allows us to minimize packaging and provide an exceptional value to Co-op members.
Promote whole food plant-based diets through both product availability and educational initiatives like cooking demonstrations. WFPB diets take less energy to produce, to transport, to cook and to store.
Use technology and careful design to minimize net consumption of energy in all parts of the Co-op's operations.
Demonstrate climate-aware policies throughout all aspects of the Co-op.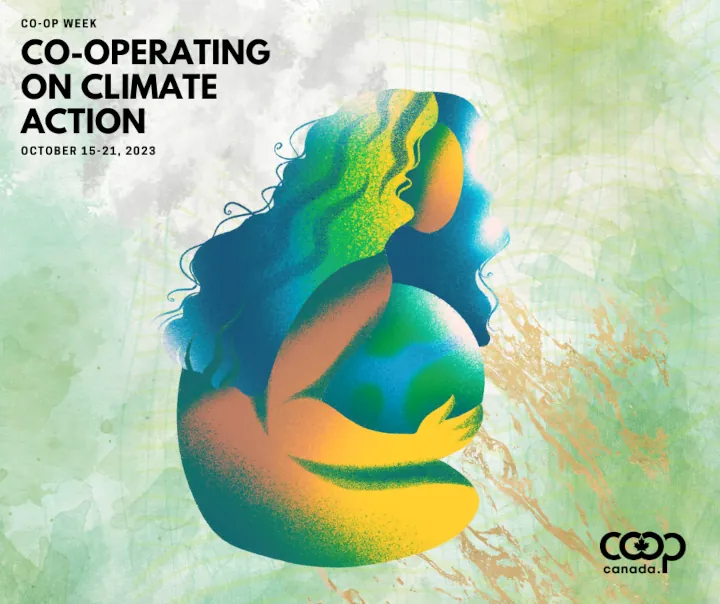 Becoming a member of an Organic Food Co-operative is a great way to take action and help to mitigate negative changes to the climate. Buying local food reduces the cost of transporting food. Buying organic food reduces the pesticide load on the environment, and produces healthy ecosystems - soil, water, air and habitat.
Co-ops Supporting Other Co-ops
Co-ops can purchase from each other to help build a strong co-operative system, while supporting each other. At Steep Hill, one of the co-ops we use as a supplier is La Siembra Co-operative in Ontario, which supplies us with their delicious Camino chocolate. Having other co-operatives as suppliers reinforces co-operative values like fair trade to workers and communities, and environmentally sustainable agricultural practices, both domestically and internationally.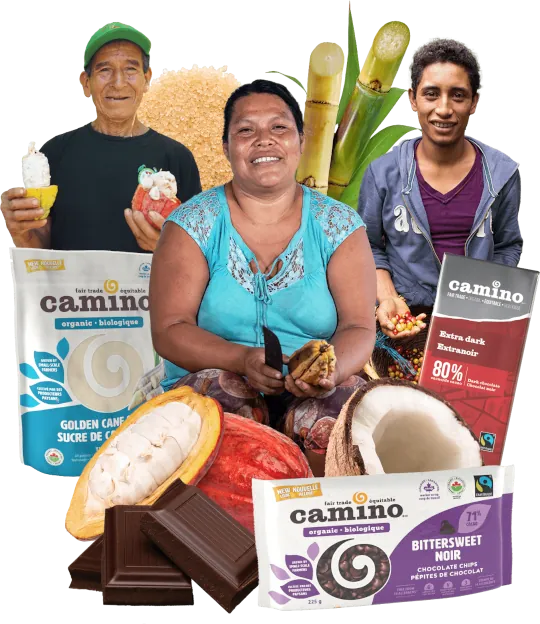 It's more than just... [list of Camino products]

Let's build a better food system.
One that respects people and our planet.
One where your food choices bring positive change.
The path for change starts here.

Through the purchase of a Camino product, you are supporting a democratic Canadian worker-owned co-operative dedicated to fair trade and international cooperation.

Co-operative trade relations account for more than 70% of our purchases and close to 50% of our total sales.

-- Camino.ca
And Here We Are, 45 Years Later…
Steep Hill is getting ready to celebrate 45 years from the beginning of our co-operative! Please save the date of Tuesday November 14th and join us during the supper hour and evening, at Amigos Cantina. It will be a chance to eat together, reminisce together, and most importantly celebrate together! Details to follow.
Activities to Celebrate Co-op Week
There are meaningful and community-minded activities to help us celebrate Co-op Week, and most of them are free! Here are some activities going on in Saskatchewan:
| | |
| --- | --- |
| Mon, 16 Oct | Co-op Week Merit Awards Dinner and Ceremony (Awards ceremony celebrating the contributions of outstanding individuals in the co-operative and credit union system) (Cocktails 5:30 pm, Dinner and Awards 6:30 pm, TCU Place, 35 22 St East, Saskatoon)(To book tickets email sca@sask.coop or call 306-244-3702 |
| | World Food Day, October 16, 2023 World Food Day falls in Co-op Week, which makes it a double celebration for Steep Hill Food Co-op! Co-ops can play a critical role in food security and food sovereignty by allowing communities to exercise more control over how and what they eat, and by enabling disadvantaged people to have more power in the food system. |
| Tues, 17 Oct | Book Launch and Mixer (Topic: "Co-operative Development Possibilities in Rural Settler and Indigenous Communities" featuring co-editor and author Dionne Pohler) (4:30-6:30 pm, Diefenbaker Canada Centre, Saskatoon) (Register via QR code) (Poster in store) |
| | Co-op Week Flag Raising Ceremony (11:00 am, Legislative Building in Regina, RSVP in advance) |
| | Regina Co-op Week Luncheon (A lunch and learn session, guest speaker on issues of interest to the co-operative sector) (11:45 am-1:00pm, Atlas Hotel, 4177 Albert St, Regina, $20 + GST) |
| Wed, 18 Oct | Try Camp Kindling (Co-operative Youth Retreat for youth ages 10-15 – Games, Activities, Fun, Snacks) (4:00-6:00 pm, Saskatoon Community Clinic, Langer Building, 424 1st Ave North, Saskatoon) (Register for this free event at pdriedger@communityclinic.ca) (Poster in store) |
| Thur, 19 Oct | International Credit Union Day (75th Anniversary) (celebrating the spirit of the global credit union movement) |
Working Memberships Help You and Your Co-op!
Steep Hill Food Co-op is about building community, encouraging sustainable living, connecting local producers to consumers, and ensuring food security. Your membership supports one of the few not-for-profit cooperative grocery stores in Canada. Our prices cover our operating costs—and the more you shop here, the lower we can make those prices.
You can reduce your own grocery prices further and help strengthen the Co-op. How? By becoming a working member and volunteering for two-hours per month. Working members get a 6% discount at the till when you buy your groceries.
You can sign up for a store shift to help with packaging, stocking shelves, cleaning and tidying, and other tasks like taking composting and helping when shipments come in. To reserve a shift, just put your name and time you'll be in on the calendar on the bulletin board by the door, call 306-664-4455 during open hours and ask a staff person to put your name down on a spot, or email hello@steephillfood.ca with your name, date and time. Feel free to call or email if you have questions or other ideas about how you can put your volunteer time into building Steep Hill too.
Another way to participate is by joining one of Steep Hill's committees. Each has their own purpose:
Store Operations Committee - Looks after the practical, legal, and technical aspects of running the retail operation. This committee also has a Product Sub-Committee that researches and makes recommendations to improve and/or maintain the alignment of Steep Hill's product line with our values and policy.
Partnerships, Education, & Engagement Committee - Builds relationships between Steep Hill and other organizations to promote the co-op, increase member engagement, and build community; plans, coordinates and carries out communications and education focused on existing and potential members and shoppers.
Audit and Finance Committee - Ensures Steep Hill follows the Cooperatives Act requirements and provides information and recommendations needed by the Board to ensure the co-op is financially sustainable.
Governance and Strategy Committee - Promotes good governance practices, including Board training; and promotes meaningful member involvement to strengthen the cooperative by bringing a wide range of skills, experience, and interests to Steep Hill's work.
Fundraising Committee - Expands Steep Hill's capacity by obtaining funding from appropriate outside sources.
Which one is the right fit for you? To volunteer for a committee email board@steephillfood.ca.
Karen Skarsgard,
Director
On behalf of the Steep Hill Board of Directors