Beavering Away In The Bridge City!
June 2, 2023
Late spring is in full swing in the beautiful bridge city, and Scott, Sammy, the interim Board of Directors and all of our amazing volunteers and working members have also been as busy as beavers over in the Steep Hill Food Co-operative food store. We have some exciting things to share with you.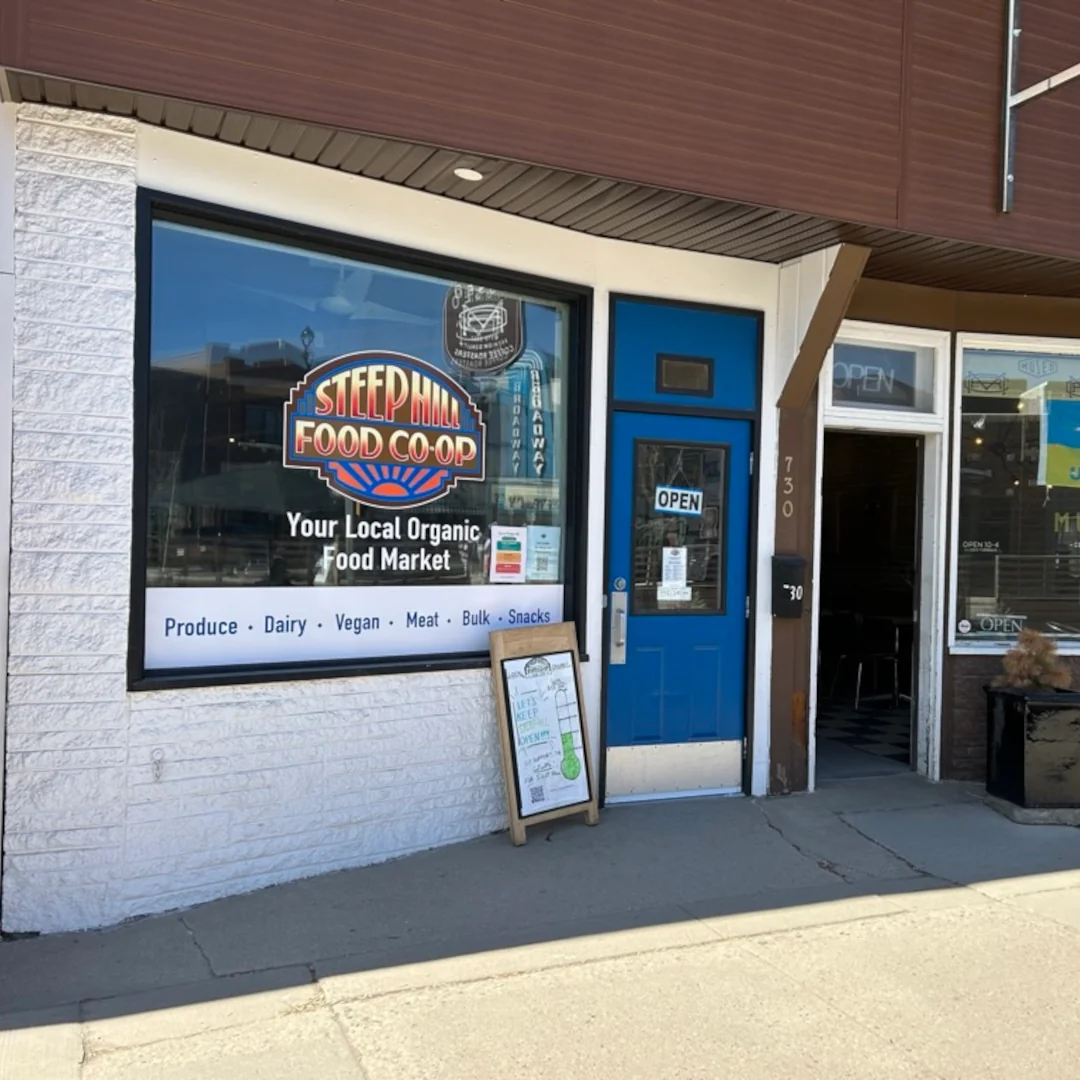 Social Media Blitz!
Our amazing and indefatigable staff team of Scott and Sammy started a Steep Hill social media blitz this week. Go to our Facebook and Instagram pages. "Like" our posts, share, and follow! Remember to tell Scott and Sammy what you love about shopping at Steep Hill - they will be looking for stories to profile in the campaign.
Renovations And Improvements
We are sure that you will agree that the interior fixtures and layout has brought a fresh new look to the store. We're working hard to get all of our planned improvements in place. Next time you're in, check out these changes:
Redesigning our dry storage area has doubled its capacity. We can now store more inventory of the items currently in stock, as well as stock additional items that you let us know you would like to see in the store.
The Point of Sale (POS) system equipment is en route, and work is currently being undertaken to ensure uploading all the store's product and price information goes smoothly and quickly. The time savings and efficiencies that will result after installation will be without measure! Once the system is in place, a full inventory will be completed, which we hope can be done with minimal inconvenience.
The fully integrated digital telephone and internet system has been installed, and shrewd negotiations mean annual savings of $1,500 over the cost of our old system. The new system will be fully compatible with the POS system and will contribute to staff efficiencies, allowing quicker responses to fulfill consumer requests and orders.
We have earmarked some additional money received through the "GoFundMe" campaign to pay for the cooler upgrades and installation of new shelving and lighting. The shelving improves air flow as well as product display and provides greater accessibility for shoppers. These upgrades were an absolute necessity and long overdue. The result is better functioning equipment, produce that keeps fresher for longer, and a much lower energy bill due to better equipment efficiency. And the lighting? Well, we think it's a fantastic upgrade and shows everything off to its maximum, beautiful potential. Why don't you be the judge? Stop in and tell us what you think of the store's new look!
Coteau Hills Creamery
This week's Steep Hill supplier profile might be a little cheesy! Kirby and Crystal Froese have owned and operated the Coteau Hills Creamery in the beautiful city of Moose Jaw, since 2016. Their dream actually started in 2011 when they both returned to their hometown and began to discuss a new venture and what that might look like. Kirby has a background in winemaking, and Crystal has a background in events planning and marketing. They had previously owned a winery, but wanted a new challenge, and settled on the idea of a creamery. In 2015, they designed and built Coteau Hills Creamery from the ground up. In 2016 they released their first Coteau Hills Creamery Balkan-style feta cheese. And the rest, as they say, is history.
Early on, Kirby and Crystal partnered with Blaine and Marlie McLeod, dairy farmers who own and operate Caroncrest Farms out of Caronport. The four partners share the same philosophy of creating amazing cheese from the best Saskatchewan-produced milk. And we agree – "fresh and local is best!"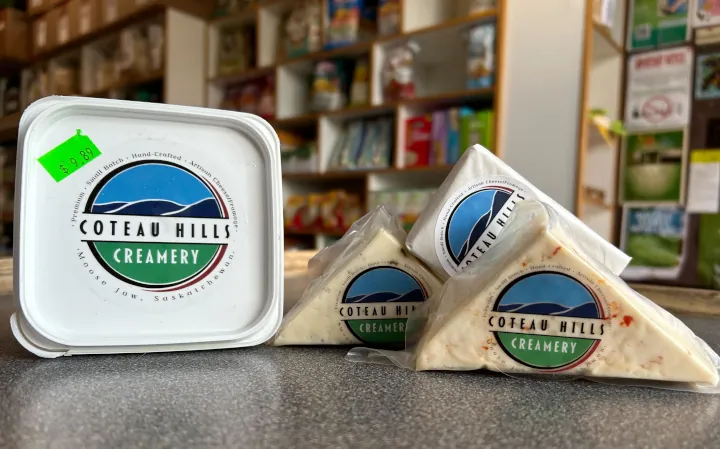 Their hand-crafted, small batch artisanal cheeses are widely available in grocery and specialty shops all across Saskatchewan including right here at Steep Hill Co-op. Pick some up the next time you're in the store.
Annual General Meeting
Another reminder that the Steep Hill Co-op AGM will be held at Grace Westminster United Church, Wednesday June 28 in the evening. Save the date! We're hoping for a great turnout. This is your opportunity to come and meet the Interim Board, hear our recommendations and ideas for the future of Steep Hill, ask your questions, and share your own thoughts with us and your fellow Co-operative members. All this is coming together in one great evening!
Wednesday June 28th
Grace Westminster United Church
We will be looking for nominations to the Steep Hill Board. If you are interested in learning more about this opportunity to be a big part of the store's exciting future, please contact us at board@steephillfood.ca. One of us would be happy to answer any questions that you have and provide you with any additional information that you might want. We will be calling for nominations to be submitted in writing prior to the AGM, so we can post candidate biographies on the store' website. More coming on steephillfood.ca so watch for updates!
Corner Store Items
Steep Hill will soon be stocking some corner store items and pantry staples. Providing these items at Steep Hill was frequently suggested in the recent member survey as something that would benefit Steep Hill and be appreciated by many in our Broadway community. We have selected the items, and renovations to conveniently organize and display these products are about to get underway. Next time you shop, check out Steep Hill's new pantry section!
Product Survey This Week!
Speaking of new products, we have just launched a second survey. To help ensure Steep Hill is stocking and providing what you need for your weekly shop, this survey asks you to elaborate on the types and kinds of products that you would like to see on our shelves. We want to be the grocery store where you can count on getting the things that you need. Steep Hill should be responsive to the needs of you, your neighbourhood and beyond. Your input is crucial to our decisions.
Good Things To Remember….
Tuesday shopping hours are now 9:00 a.m. to 4:00 p.m. We have had great feedback from early Tuesday morning shoppers, so these hours will continue. Regular hours for the rest of the week are Monday, and Wednesday to Saturday - 12:00 noon to 7:00 p.m. and Sunday 11:00 a.m. - 4:00 p.m.
Memberships are cheap! A student membership (with ID card) is only $15.00/year and includes:
a 6% discount on the day of membership purchase/renewal
a 3% discount on all purchases, all year!
a 6% discount on case-lot purchases and on special sale days
a vote at the AGM and an opportunity to serve on the Board of Directors
Our GoFundMe Campaign is still open. It has been the source of funding for all the renovations that you see in Steep Hill, and your money has been more than well-spent. Thank you to everyone who has donated so far. If you haven't had a chance to donate, please consider doing so today.
Who else do you know who wants to see Steep Hill thrive? Challenge your friends and neighbours to pitch in, so they too can take some credit for our future success! If everyone in the Broadway area donated even $5, we would by far surpass our goal. Small amounts from everyone add up quickly – and large amounts add up even faster!
If you prefer not to use the online platform, you can donate directly by cheque, payable to Steep Hill Co-op, and write "donation" in the memo line. You can leave your donation cheque with Scott or Sammy or any one of the Board members who are at the store, or mail it to:
Steep Hill Food Co-op
730 Broadway Avenue
Saskatoon, SK, Canada
S7N 1B4
It is always exciting to be able to bring these updates to you! But nothing is ever accomplished in a vacuum. A BIG THANK YOU to all who continue to devote countless hours toward the re-invigoration and rejuvenation of our little store with a big heart on Broadway! We couldn't do it without you!
Ann Smith,
Director
On behalf of the Steep Hill Interim Board